The Pee Wee Team will be playing in the Regional Round 2 Playoffs on Sunday November 15th at Clark High School in Clark NJ. Game Time is 4:00pm! Come show your support!!!
Congratulations to the Pee Wee Football Team on winning the Central Jersey Div 3 Championship. The Pee Wees will be advancing to the Regional Playoffs. GOOD LUCK PEE WEES!!
Congratulation to the Pee Wee Football Team on being the Red Division Champs with a Red Division record of 5-0.
Congratulations to the Midget Team clenching the #2 seed in the Red Division. GOOD LUCK IN THE PLAYOFFS!!
Coaching Staff
Football Commissioner Liz Sanchez
Flag Gold Team Head Coach Kevin McGuire
Assistant Coaches
Donald Gardner
Tom Shields
Ray Viola
Michael Radovanic
Rick Sudnick
Flag Red Team Head Coach Larry Lebrocq
Assistant Coaches
Charles Bowles
Joey Faria
Steve Weinstein
Mike Laleposa
Ken Schwartz
Rick Laleposa
Mitey Mite Head Coach Mike Yascko
Assistant Coaches
Henry Rivera
Bill Papa
Carmen Ippolito
John Miller
John Paramithis
Jr Pee Wee Head Coach Ryan McGee
Assistant Coaches
Andre Yates
Ricky Radd
Carlos Plaza
George Roe
Pete Frsco
Pee Wee Head Coach Jerome White
Assistant Coaches
Dwayne Haskins Sr
William Povalac
Anthony Pochesi
Amir White
Keith Pierce
Sam Feika
Midget Head Coach Brian Druker
Assistant Coaches
Frank Adams
Jeff Gifford
Mike Yunker
Chris Jackson
Maurice Jackson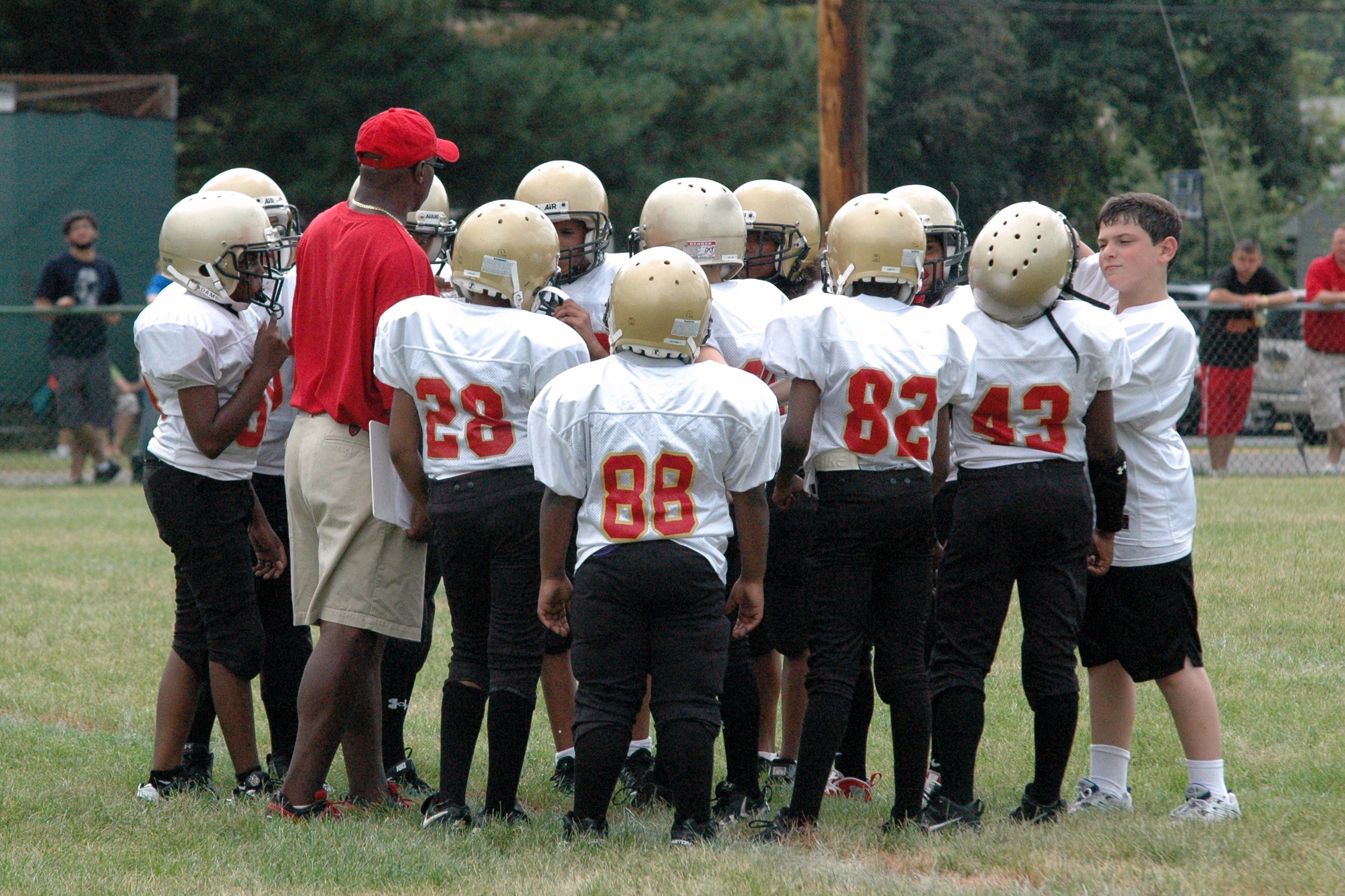 Discipline, Dedication & Teamwork
The Edison Jets currently have 6 football teams with approx 160 players....
2 Flag Teams, 1 Mitey Mite Team, 1 Jr Pee Wee Team, 1 Pee Wee Team & 1 Midget Team
We are proud members of Central Jersey's Pop Warner Division 3.
2009 Game Schedule
Scrimmages
Sunday 8/16/09 at Old Bridge
Wednesday 8/19/09 at North Brunswick
Games
Sunday 8/23/09 @ Sayreville
Sunday 8/30/09 @ Hopewell Valley (F-PW Only)
Sunday 8/30/09 @ Staten Island (Midget Only)
Sunday 9/6/09 @ Morgan
Sunday 9/13/09 @ Allentown (F-PW Only)
Sunday 9/13/09 vs Port Reading @ Princeton (Midget Only)
Sunday 9/20/09 @ Colonia
Sunday 9/27/09 @ South River
Saturday 10/3/09 @ North Edison (Mayor's Trophy)
Sunday 10/11/09 @ Old Bridge
Equipment/Uniforms
Equipment/Uniform Supplied
Helmets
Shoulder Pads
Rib Pads
Girdle Pads
Knee Pads
(1) Mouth Piece
Pants
Practice Jersey
Game Jersey

Equipment Needed
Football Cleats
Football Girdle
Athletic Cup
Socks
Optional: (highly suggested)
Long Sleeve Under Armor shirt
Game Results
Jr Pee Wee
(Overall Season Record 2-6)
Edison 0 vs Sayreville 27
Edison 0 vs Hopewell Valley 1 20
Edison 13 vs Morgan 20
Edison 20 vs Allentown 0
Edison 27 vs South River 7
Edison 0 vs North Edison 27
Edison 0 vs Old Bridge 13
Pee Wee
(Overall Season Record 8-2)
Edison 13 vs Sayreville 14
Edison 6 vs Hopewell Valley 22
Edison 24 vs Morgan 0
Edison 24 vs Staten Island 7
Edison 28 vs Colonia 6
Edison 19 vs South River 0
Edison 24 vs North Edison 0
Edison 26 vs Old Bridge 0
Post Season - Playoffs
Edison 27 vs Sayreville 0
Edison 28 vs Hopewell Valley 6
Midgets
(Overall season Record 6-3)
Edison 13 vs Sayreville 6
Edison 31 vs Staten Island 2 20
Edison 0 vs Morgan 13
Edison 31 vs Port Reading 12
Edison 39 vs Colonia 26
Edison 23 vs South River 0
Edison 0 vs North Edison
Edison 1 vs Old Bridge 0 (Forfeit)
Post Season - Playoffs
Edison 0 vs Sayreville 20